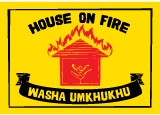 Standard Bank Luju Festival Food And Lifestyle Festival

AAfter 11 years of successful and seamless MTN Bushfire festivals, the organisers are excited to announce a new addition to the events calendar: The Standard Bank Luju Food & Lifestyle Festival, taking place August 4th 2018 on the Malandela's farm lavish lawns.

This unique, regionally focused event brings the ethos of diversity, inclusion and socially responsible celebrations to a one-day, generous feast of entertainment that includes music, design, culinary arts, and connoisseur led premium wine and whiskey showcases.

Set amidst the world acclaimed House on Fire soapstone sculpture garden with a breathtaking backdrop of endless cane fields and rolling hills, the venue provides a magical atmosphere where festivalgoers can leisurely interact with a range of lifestyle activations designed for the whole family.

Showcasing the incredible and diverse tastes of Southern Africa, a variety of lounges and experiential spaces will play host to culinary demonstrations by top chefs, health & wellness presentations, visual art & design, gourmet pop up eateries and premium drinks platforms. All this topped off with an amazing line-up in music, comedy and kids entertainment.

VARIOUS PLATFORMS
Wine Saloon
For the more sophisticated palates, the Wine Saloon will present an array of wines and demonstrations from seasoned masters, relaying the art and history of wine making as well as offering their unique insights on the fine art of food pairing.
Craft Beer Garden
Laid back and vibrantly charged, the Craft Beer Garden will offer an expansive selection of quality craft beers including special brews from the finest breweries in Africa. The space will also feature a delectable spread of curated gourmet food.
Top Deck Lounge
Set in the tree shaded Malandela's Restaurant gardens, the Top Deck Lounge will offer guests an all-access quality experience, inclusive of whisky tasting, wait service and farm-style a-la carte menu with a great panoramic view of the festival arena.
Premium Lounge
Perfectly positioned on an elevated platform, the Premium Lounge will be an access controlled space with prime unobstructed views of the main stage where guests are treated to an exclusive experience with wait service and private facilities.
Design Cafe
The Design Café will be a pop-up concept store featuring a curated exhibition of the region's finest creations in fashion, multimedia, designer foods and visual art, complimented by enthusing talks from recognized media personalities and influencers.
KidZone
In the Kids Zone, children can roll up their sleeves to participate in plenty of age appropriate, stimulating and hands on activities. In between being active and creative, youngsters can also enjoy treats just right for their little tummies.
Lifestyle
Standard Bank Luju Food & Lifestyle Festival attracts more than just foodies and music fans. The festival lifestyle component caters for fitness enthusiasts, lifehackers, tech gurus, families and trendsetters who are all part of our diverse demography. The inclusive program also promotes Swazi Escape; an annual family oriented cycling experience for all levels of riders.
BE PART OF THIS NEW EXCITING FESTIVAL!
To become a sponsor, contact
marketing@house-on-fire.com
To become a trader, contact
curator@house-on-fire.com
Find Out More
Ticketing information as well as travel packages and special offers will be announced in the upcoming weeks.
Luju also invites any interested traders, exhibitors and companies to contact us for more information on the opportunities available to be part of this amazing high-end lifestyle event.
For more information please contact
luju@house-on-fire.com
or call +268 2528 2040.
Where new
rolex replica
struggle to create contemporary pieces to enthrall audiences, they more and more reach deeply into their history to pull out something they know works. Entire
hublot replica
are being recreated to produce or reproduce formerly successful models to compete with a busy vintage
replica watches uk
market in which prices seem to only go up. This redesign does not do much for me. Looks more like the
replica watches
version, which I did not care for. Wish I would have held onto it. The original cushion case design was cool, and so was the bracelet. I think the stainless steel model with
replica watches sale
dial is awesome looking. Now I saw the steel gold skeleton versions of the one presented. This offering with contrasting finishes is a nice balance but I would want to see it in person before final judgement. The
hublot replica
store is obviously opposite of this but its not all that impressive.